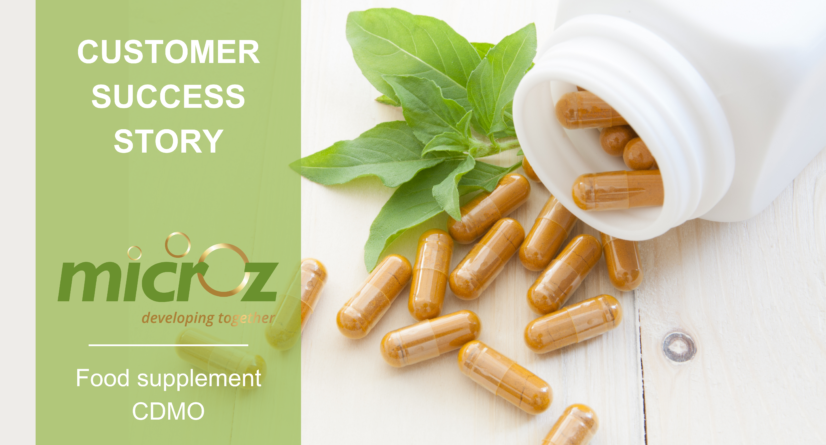 "Our challenge is to get a clean, shiny capsule, no matter what size it is. We need an equipment that can perform a very efficient polishing of all capsule types, from the smallest to the largest. This is what we found with Pharma Technology."
Mareno Lübkemann, Chief Executive Officer, Microz B.V.
1. INTRODUCTION
Company:       Microz B.V.
Country:          The Netherlands
Industry:          Food / Nutra
Type:               Contract Manufacturer
Size:                85-90 employees
Solution:         NutraCaps
Microz is a Dutch Contract Development and Manufacturing Organisation (CDMO) specialized in the development, composition and production of food supplements for clients from all around Europe, in any large or small quantities.
With the intention of becoming an EU leader in the development and manufacturing of high-grade food supplements, the company closely follows the updates of the European legislation to be a reliable partner with a full-service concept for its customers.
2. CHALLENGE
As a contract manufacturer of nutritional supplements, Microz operates with many capsule sizes, from size 4 up to size 000. Finding an equipment that could efficiently polish all capsule types was the main challenge Microz faced. They process mainly large capsules with semi-automatic fillers, which resulted in a lot of dust and jams with undesired open and empty capsules during the manufacturing process.
In addition to size, they also have to handle a lot of different APIs and powder blends, especially sticky ones, so they required a simple solution with fast and easy cleaning and dismantling.
On top of all of this, and the reason why the Dutch CDMO was looking for new equipment is that they wanted to improve the quality of their products,  so they were looking for GMP compliant machines.
3. SOLUTION
Decision factors:
Outstanding polishing performance
Supporting all capsule sizes
cGMP compliance
Complete emptying
Fast and easy cleaning & dismantling
The capsule polisher offered by Pharma Technology includes a unique brush design combining:
– a conical brush with a smaller diameter at the bottom end to allow high capsules throughput and a larger diameter at the top, allowing to polish the capsules as they are moved up along the brush;
– a mix of harder bristles for conveying and softer bristles for polishing.
Thanks to this patented brush, the NutraCaps provides a very high quality of polishing, which is critical for food supplement manufacturer such as Microz, while maintaining a high production rate.
The design also allows to efficiently polish even the smallest capsules, which makes the NutraCaps a very flexible solution able to reach excellent polishing performance with all capsule sizes.
The solution also featured an Empty Capsule Eliminator (ECE), a key element for the manufacturer who had to clean up all broken and empty capsules from the batch to improve the downstream packaging process. Moreover, since the equipment requires few parts and no tools, it is the ideal solution for quick changeover when dealing with a wide range of products.
4. RESULT
Microz was extremely happy with the quality of polishing achieved, in particular with small capsules very difficult to dedust.
| | |
| --- | --- |
| Before polishing | After polishing |
The collaboration combined Pharma Technology's know-how in OSD equipment design with Microz's expertise in food supplement manufacturing to develop the most effective solution meeting the nutraceutical specific production needs.
This new partnership was a great success and suggests a promising business relationship for the future.